As the sacred spring festivals of Passover and the Days Of Unleavened Bread draw nearer to us, our high expectations toward those remarkable rises that we have attained through our lavish wild-yeasted leavens roll all the way down to that humble stance of eating the less desirable yet ultra delish flatbread. In this time of abundant rejoicing… Partake of this fabulous flatbread that's been lovingly prepared with the one of a kind and organic, NON-hybridized and truly ancient, whole grain of einkorn wheat… the best purified water, an exquisite unrefined salt and a superb extra-virgin, olive oil.

The precious event of Passover and the profoundly meditative Days Of Unleavened Bread are when we gloriously relish in those ever so holy, tremendously impactful and memorable moments of the unfathomable meekness that was displayed by our Lord and Savior. The marvelously rich and incredibly deep, spiritual significance of this dynamic duration certainly calls for respectful and sober reflection. During this unparalleled period… Our hearts lift with the immense joy, grand hope and immeasurable gratitude for what this spectacular time of the year represents.
Delicious, Divine Dining With Dianne
Recipe Authored By Dianne Wawrzyniak-Marshall
My Hebrew name… Makalath Lachaamah Ahmath
"to nourish with bread and truth"
Flatbread (unleavened bread) is superb anytime of the year.
It's not just for Passover & The Days Of Unleavened Bread.
If you're looking for a yummilicious recipe for unleavened bread, look no further.
Yield is 5 large flatbreads… 2¼ ounces each.
Wondering where to get the ingredients to prep this recipe?
Wonder no more… click HERE to find out!
Equipment
Have available a heavy-bottom skillet (the size of the skillet depends on the size of the flatbreads), a medium-size mixing bowl, a small-size bowl, a fork, measuring cups and spoons of 1 cup, ½ cup, a spoon, 1 tablespoon, a spatula, cutting board, chef's knife and kitchen scale.
In the medium-size mixing bowl, put:
Einkorn whole-grain flour, 1½ cups
Or, weigh the flour = 7½ ounces.
Here's how to properly measure flour.
Click HERE and HERE for two really great video demos.
Salt, unrefined and fine grain… 1 teaspoon
With a fork, stir together flour and salt.
To the flour and salt, add:
Extra-virgin, cold-pressed, organic olive oil… 2 tablespoons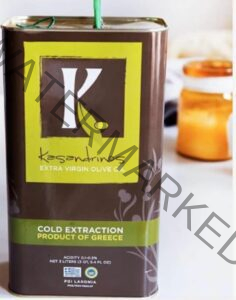 Click HERE for some confirmedly sublime, organic EVOO (extra virgin olive oil)!
With a fork, smoosh in the oil until it's evenly distributed throughout the flour and there's a crumbly texture.
Water, filtered/purified… ½ cup
Click HERE to find out how Dianne (owner/author of this website) filters and purifies the water she drinks.
Pour water into the bowl with flour, salt and oil.
With a fork, mix together until a dough ball starts to form.
Wash hands… Use your hands, and knead just until a dough ball forms.
The latter stated takes only a minute or two.
Have available a cutting board, and place the dough ball on it.
Use a chef's knife, and slice the dough ball into what looks like 5 equal portions.
If you desire, weigh each piece to 2¼ ounces.
Have handy a small bowl full of filtered/purified water.
This bowl of filtered/purified water is so you can moisten your fingertips as you form each flatbread.
Take a portion of dough, and use your fingertips to flatten the dough.
As often as necessary, dip your fingertips into the bowl of filtered/purified water. Doing the latter stated will make easier the task of flattening the dough.
Begin from the center of the dough, and move your fingertips outward as you continue to flatten the dough.
The goal is to flatten each portion of dough into a circular shape that's 1/8 inch thick.
In a dry, very hot skillet… cook (over low to medium heat) each flatbread until the desired texture has been reached.
Once you suspect the skillet is hot enough, place a few drops of water into the skillet.
If the skillet is hot enough, the drops of water will dance.
To store, put flatbreads into a container and refrigerate them.
When ready to eat, reheat and top flatbread as desired.
Equip Your Kitchen
Pyrex 11 Cup Storage Plus Rectangular Dish With Plastic Cover Sold in packs of 2
Ozeri ZK14-S Pronto Digital Multifunction Kitchen and Food Scale, Elegant Black
Measuring Cups and Spoons 13 Piece Complete Set of Quality Professional Grade 18:8 Stainless Steel – 7 Stackable Cups and 6 Nesting Spoons Perfect for Dry and Liquid Ingredients
Stainless Steel Mixing Bowls by Finedine (Set of 6) Polished Mirror Finish Nesting Bowls, ¾ – 1.5 – 3 – 4 – 5 – 8 Quart – Cooking Supplies
Click HERE (or, refer to the graphic that's shown below) for Dianne's favorite cutting board, and this is the one she owns. In fact, she loves it so much that she owns two of these boards!
Or, click HERE to check out this other fabulously marvelous cutting board!
Click HERE (or, refer to the graphic that's shown below) for the top-notch mineral oil that Dianne uses to treat/care for her cutting board.
Click HERE (or, click the graphic that's shown below) for a superb chef's knife that's economically priced. This is Dianne's fave brand for all of the knives that she uses!
iLoveToLiveWell participates in Amazon's Associates Program, and some of these links travel you over to the completely trusted, extremely popular and absolutely secure site of Amazon.com. Click HERE to read our affiliate disclosure. For The Most High's glory, the modest amount of money Dianne receives goes toward funding all of the work she does here at iLoveToLiveWell.com.